A new company, Novaltek Endüstriyel Hizmetler Ltd. has been established in order to handle following technical field services:
1. Installation, start up and commissioning,
2. Dismantling, modification, revamping of existing plants,
3. New automation design, modifications and manufacturing including hardware and
software studies,
4. Asistance for development of production processes,
5. R&D project configuration to develop and introduce new products,
6. Technology transfer,
7. Training at site,
8. Market research,
9.Valuation and due diligence studies.
August 2005 - Novaltek Engineering has chosen Achenbach Gmbh. of Germany as state of the art aluminum mill supplier for Teknik's Corlu plant. Rolling mill is 2500 mm wide and has about 120,000 Tons of annual production with 0.30 x 1650 mm average finish coils. With its automation system on gauge, flatness, drive, handling systems and unique 2500 mm incoming material width, this mill will be the biggest and most modern mill in Turkey and one of the few in Europe.
August 2005 - Civil works for earth preparation and foundation of Corlu Aluminum Plant has been started at site. Upper level building from the floor will be steel structure and lower basins and all floors will be mostly reinforced concrete. During the design study of plant building and infra structure very special measures have been taken for earthquake resistance of entire plant.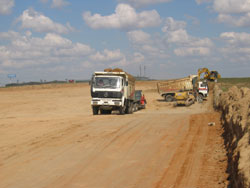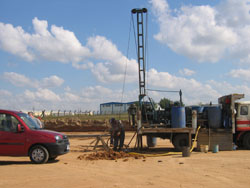 August 2005

July 2005 - An intense training period involving continuous operation procedures has been started for Teknik's cast house operators at Avcilar Plant.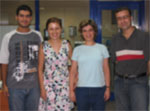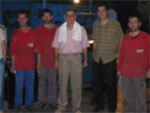 June 2005 - Novaltek Engineering has assigned Fata-Hunter of Fin Meccanica Group as caster contractor for Teknik's Corlu Aluminum Plant and parties have signed contract recently. Two casters, one Super Plus Caster 2500 mm wide and one Speed Caster 2500 mm wide will be in operation in early 2007.


June 2005 - Novaltek Engineering has received two new orders from Teknik Aluminum A.S. First order is for the modification of existing Avcılar Aluminum Plant to increase capacity up to 25 % reaching 25,000 tons of annual production within six months. Second order is to develop production process for all alloy qualities and introduce new products. Implementation of these projects has been started with two continuous caster modifications and casting process parameters optimization. Nowadays, after three months of implementation, for 1xxx series alloys 1400 kg/h.m. and 3xxx, 5xxx alloys 1200 kg /h.m. productivity figures have been already achieved in cast-house. These figures reflect about % 20 increase for soft alloys and % 30 increase for harder alloys. Second leg of implementation involving coil size and reduction rate increase will be in rolling shop. The final leg will be executed for cut to length, slitting and tension leveling lines to achieve better yield, strip flatness and surface quality.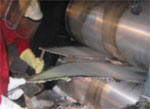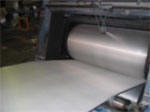 April 2005 - Another contract has been signed between Teknik Aluminum and Novelis for one modified 3CM Jumbo Caster 2150 mm wide which has got similar robustness of Fata-Hunter's Speed Casters. This caster will be specifically run for automotive and other transportation sector hard alloys production and for part time campaign based R&D operations. Caster will be ready for casting in May 2006.


April 2005 - Novaltek Engineering in cooperation with Seltek has recently introduced its first Gamma Ray based QCS equipment for paper industry. Serving to Cerkeskoy facility of Ucal Kagit this device has got two sensors: one for weight, the other for humidity of up to 3000 mm wide tissue paper line that can run 700 m/min. With its outstanding scanning speed up to 600 mm/s and positional accuracy of scanning receivers and transmitters within the super tight tolerances of 50 cubic micrometer in space, this equipment has been very welcomed by the wide web manufacturers of paper, plastic and metals.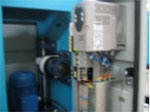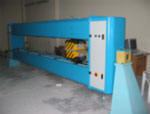 February 2005 - Novaltek Engineering has designed and manufactured a rotary type fully automatic plastic cap manufacturing machine (Dip Vinyl Molding Machine ) comprising,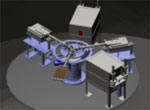 v Three arms rotary tool carriage,
v Tool heating oven,
v Plastic coating station,
v Curing oven,
v Cooling Section,
v Discharging Section,
v Tool cleaning and oiling section.


October 2004 – Teknik Alüminyum, one of the leaders in aluminum production in Turkey, has assigned Novaltek Engineering to manage its investment and to help build its new aluminum production facilities in Çorlu, Turkey. Novaltek will also lead technology design for the new factory which will have an annual capacity of 60 thousand tons. The partnership is likely to last for three years.
Project planning is already underway and the new factory is expected to be operational in 2007.
August 2004 – Novaltek Engineering has moved to its new office in Maltepe/Istanbul.